Finally! Handmade Bedding with a Personal Touch - It's the BEST on the market, find out how below (I Promise!)
Price Match Guarantee, Made in the USA & Satisfaction Guarantee
Imagine adding a Personal Touch for your Son's Bed...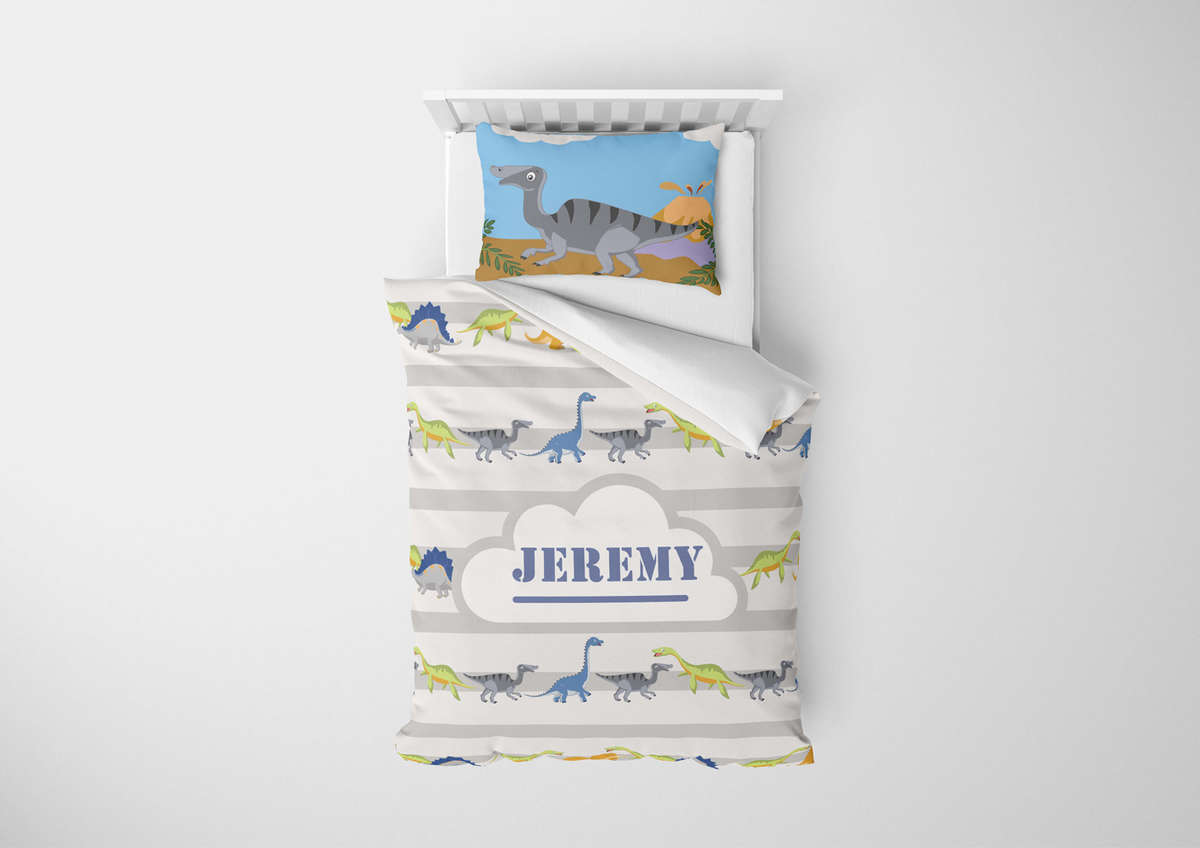 Customize & Personalize it
Spring his room to life by adding his name to it. Making it a little extra special.

When it's personal, it's heartfelt. Trust me, I know so everything is made-to-order and not mass produced!

Don't like the colors? No problem, just email me at help@dreamybeddings.com and I'll change the colors for you for free.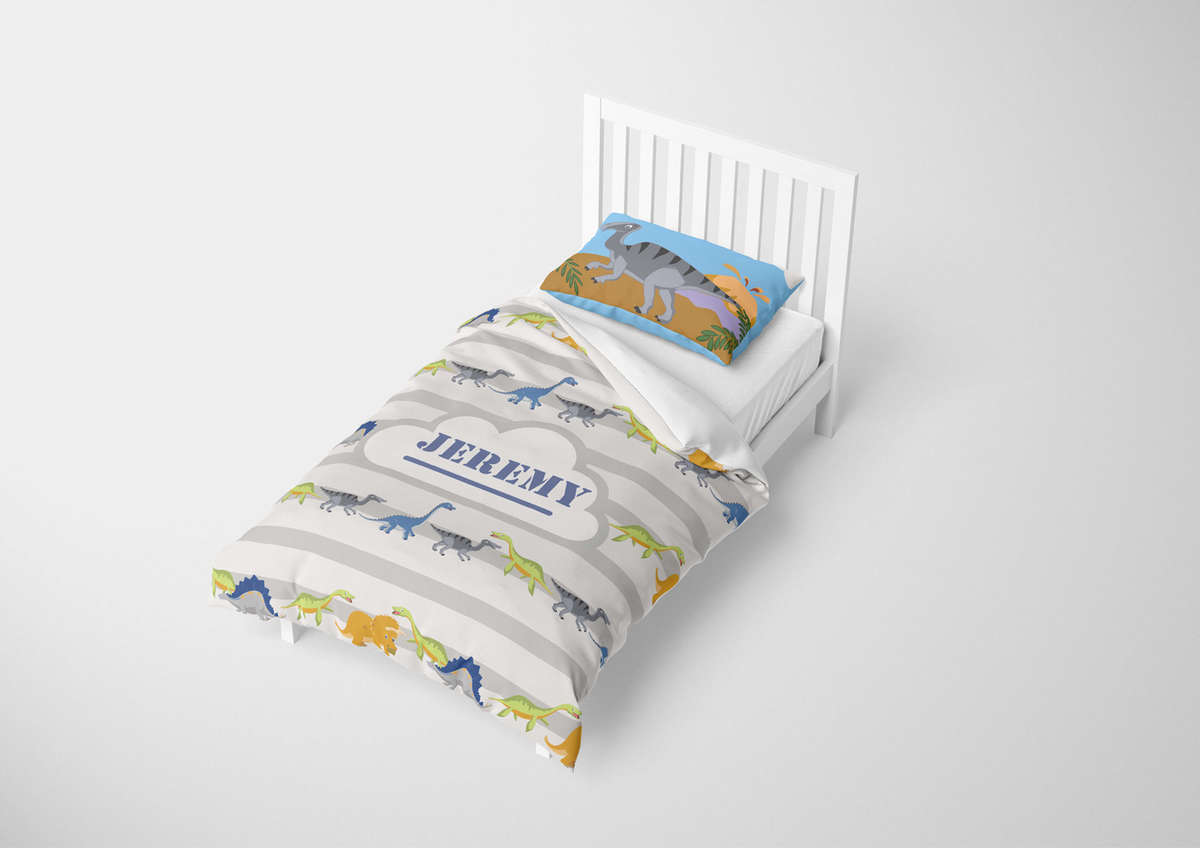 Looking for that Perfect Gift?
Here's what Your son really wants
Picture his Smile and Joy when he sees this. His friends will LOVE It and you'll both get many compliments.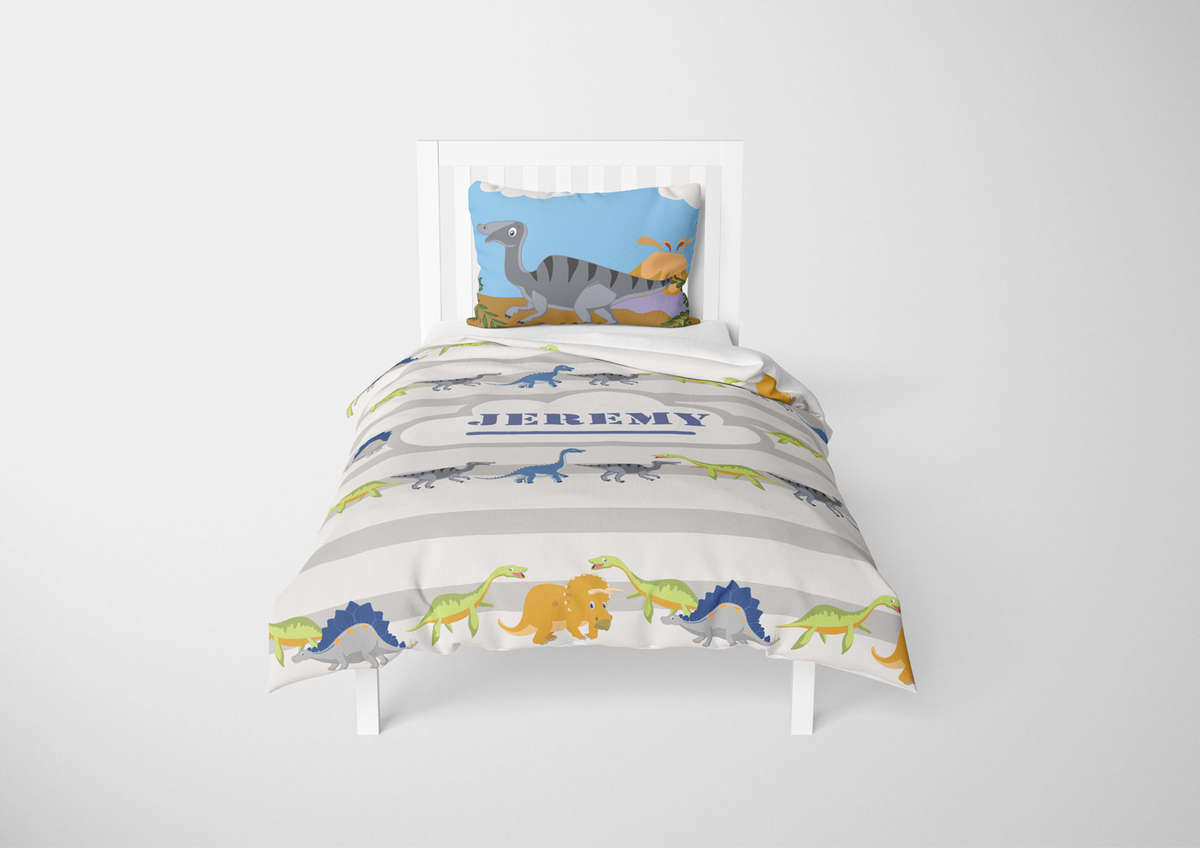 Specs & Quality
Its a 100% micro-fleece and the bottom is a soft, high quality 320 thread count sateen cotton.

My bedding is so soft, you're going yell 'ohmygosssshhhh' as soon as you touch it.

This set is woven to feel smoother & wear longer. Trust me, it'll last longer than what you have now.

Scroll down to see the quality & sizes (toddler, twin, twin xl, full / queen & king size)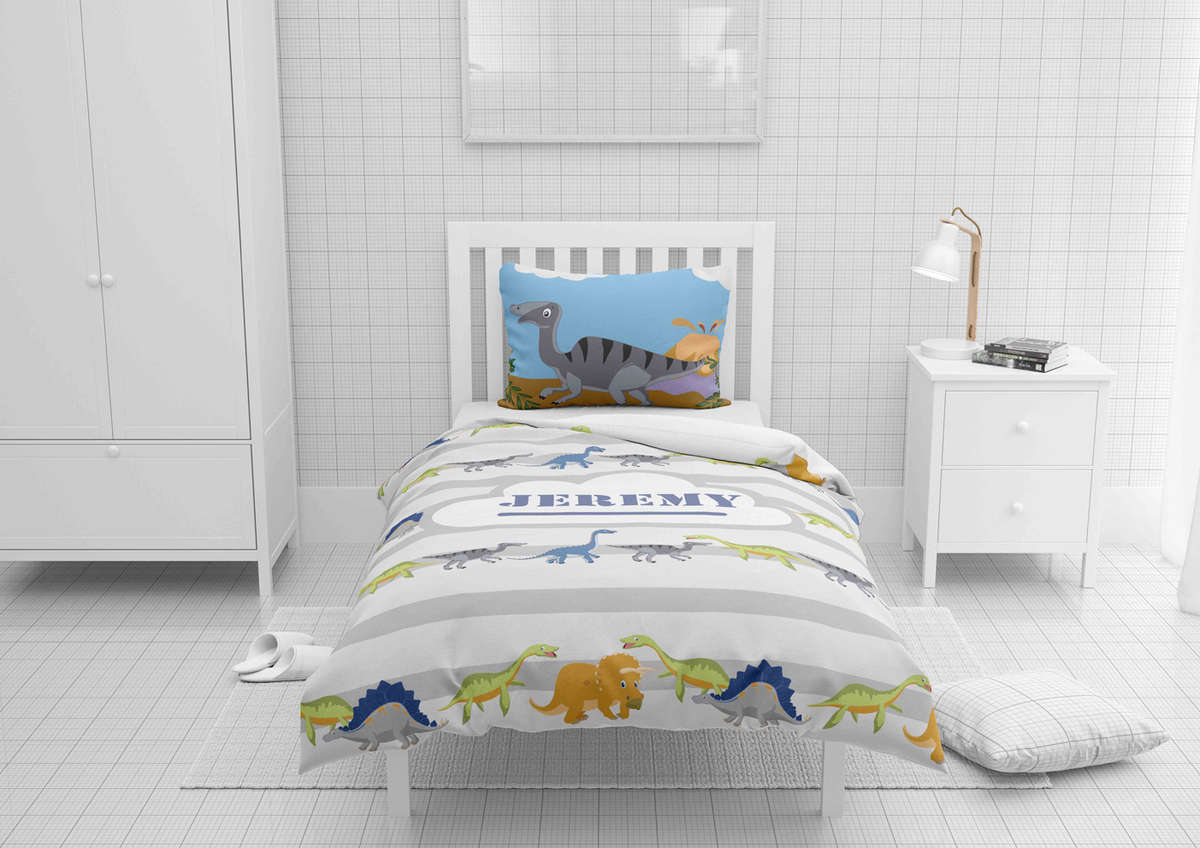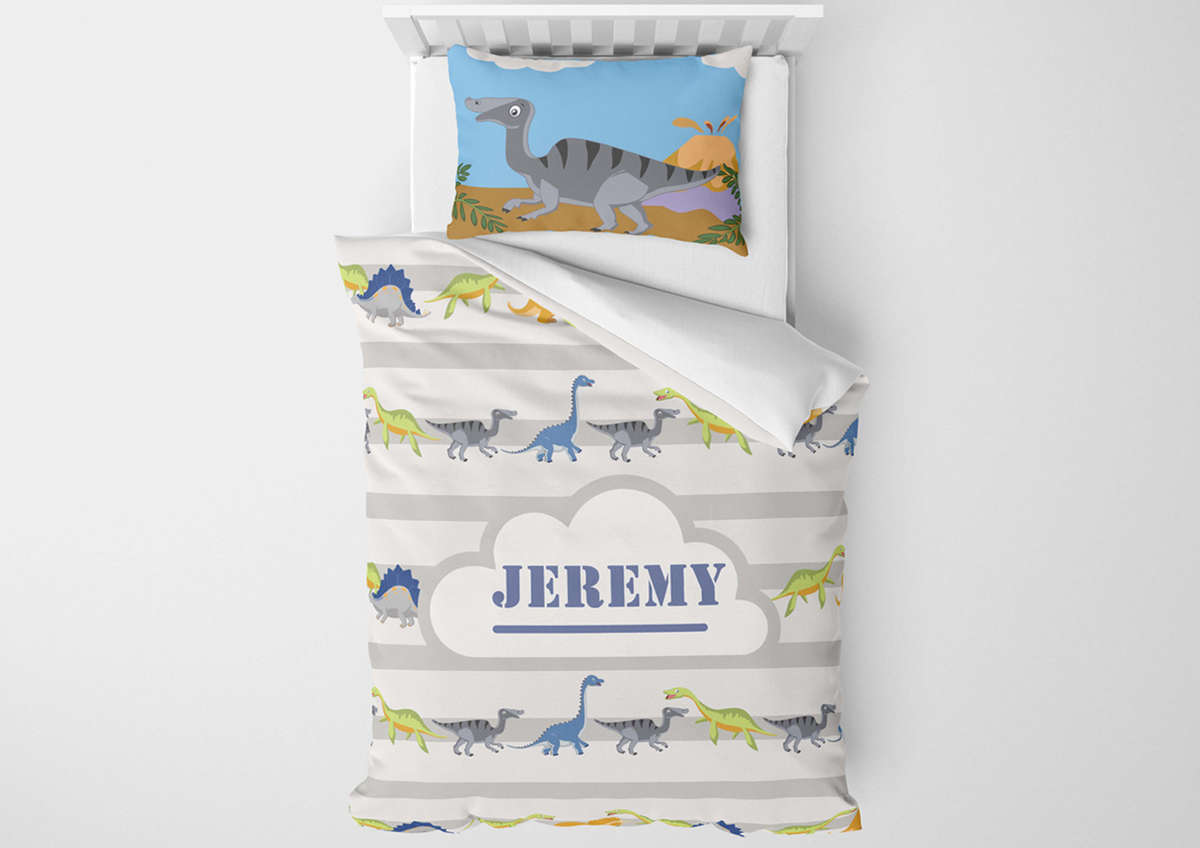 Don't believe me? Here's a closeup
(NOTE: Pictures below is from a DIFFERENT design - (not to mislead you) BUT I use the same fabric for ALL designs.)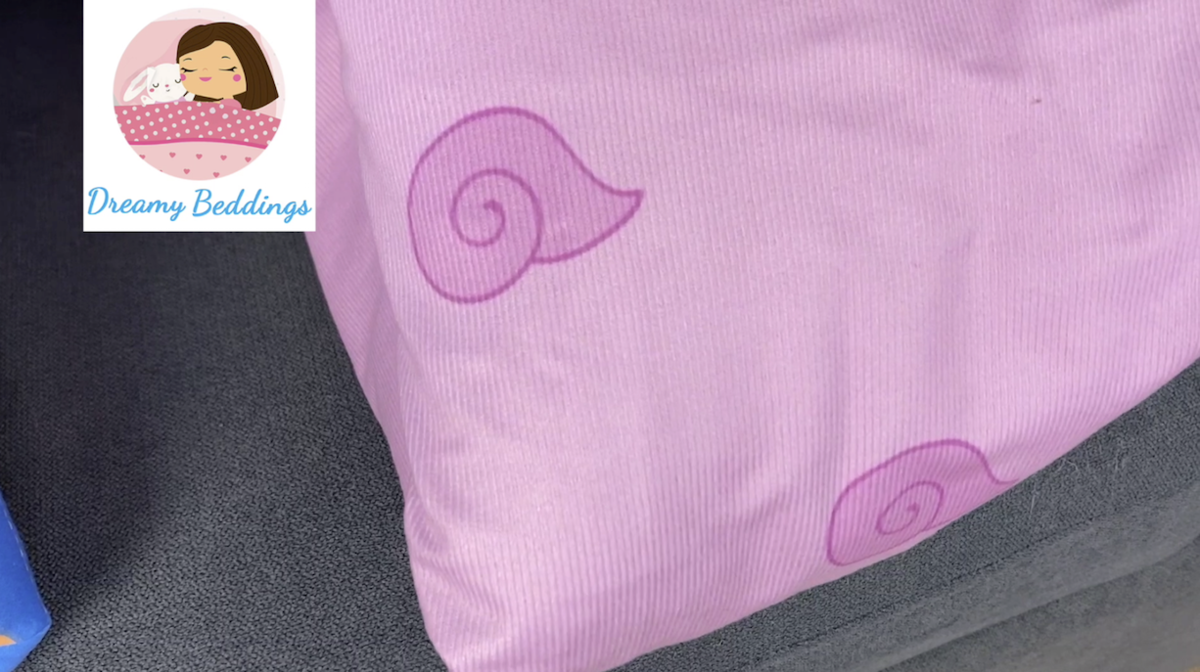 Still don't believe me?
I Gave my Bedding to a Reviewer...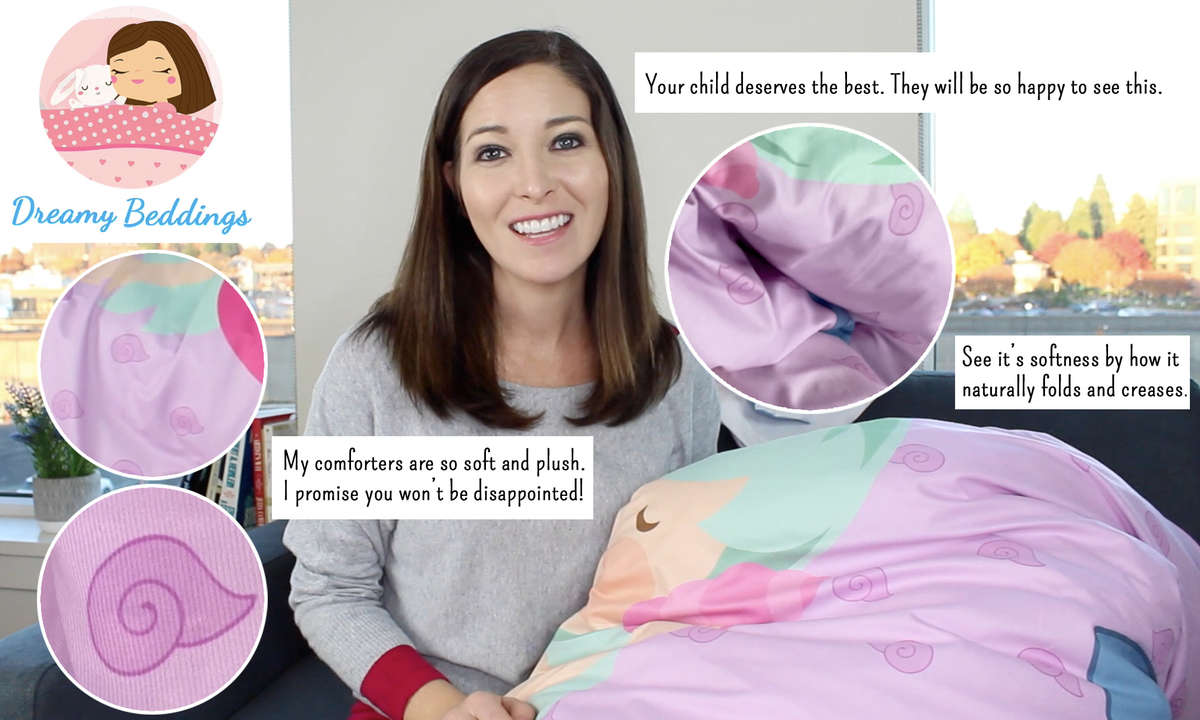 And She Compared it to Cheap $50 Bedding...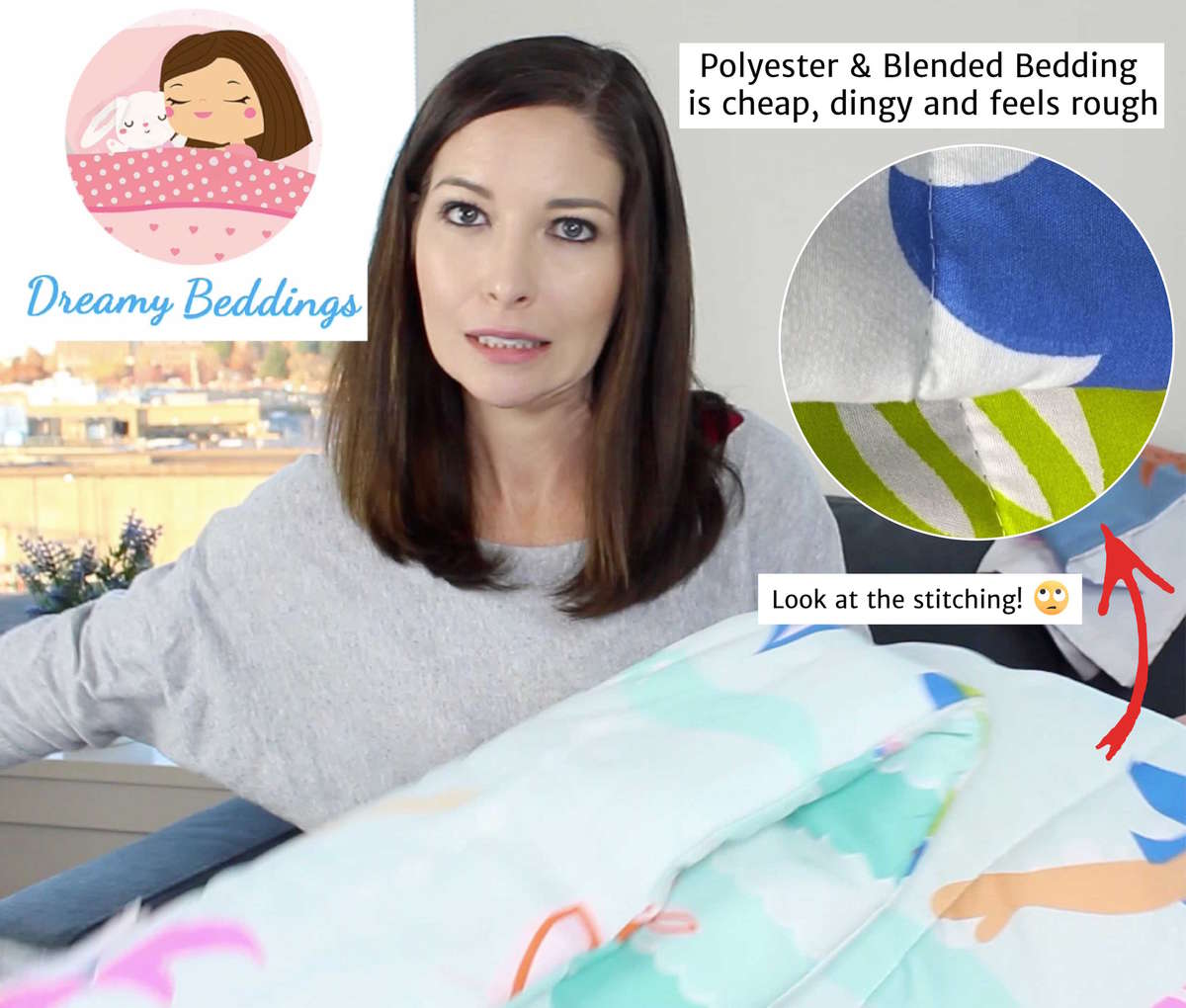 Here's another Closeup
It's cheap, rough and hard. It won't last more than a few months...look closer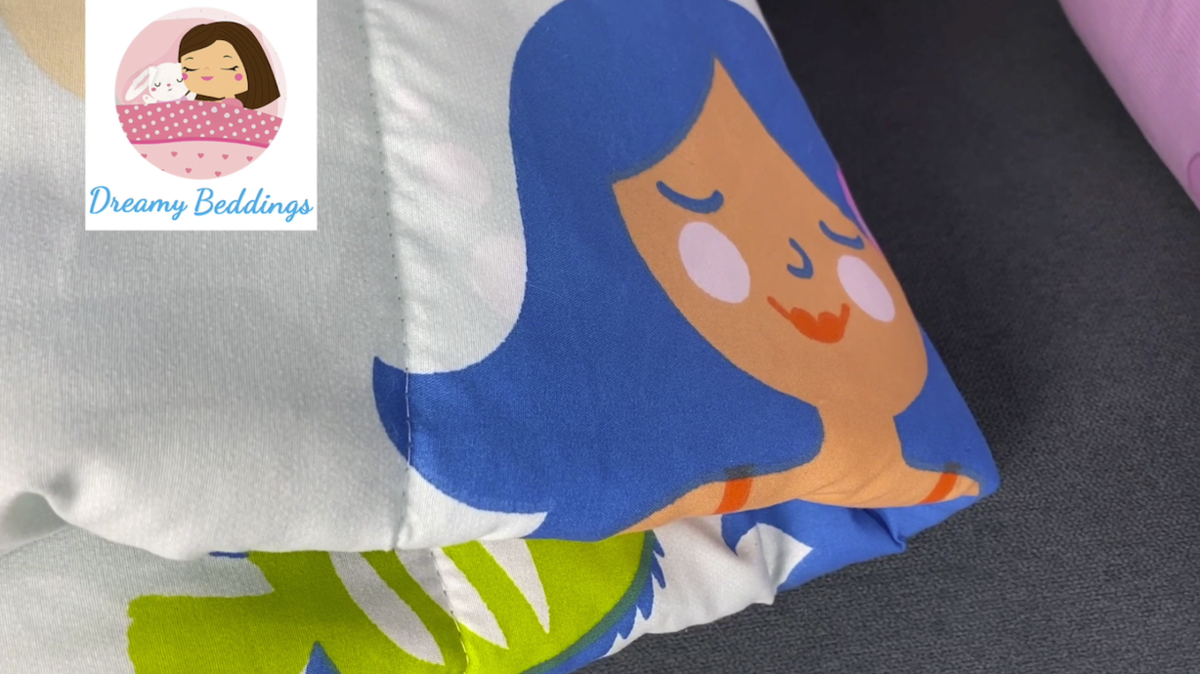 There's a reason why its better than anything else on the market
(besides the fabric I chose)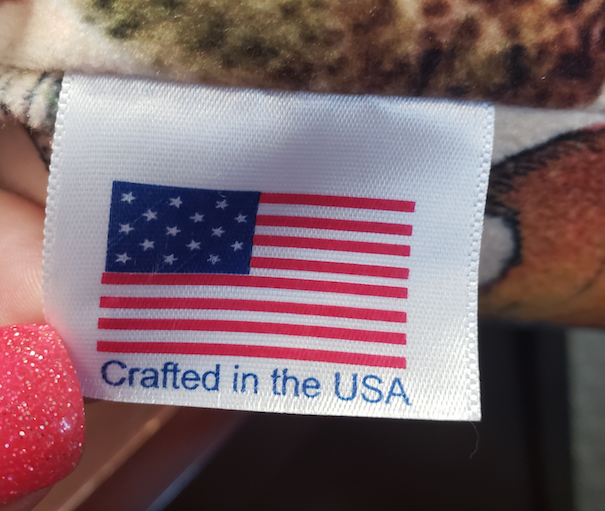 Made with Love
All my bedding is made with love and made-to-order. Trust me, we spend alot of time on it!

That's why I believe it's better than anything else on the market.

Finally, every set comes with this tag. Made in the USA means good quality & jobs for thousands of people.

Watch below to learn why.
Watch this 2 minute video review
(review of a different design but the fabric is the same for all my designs)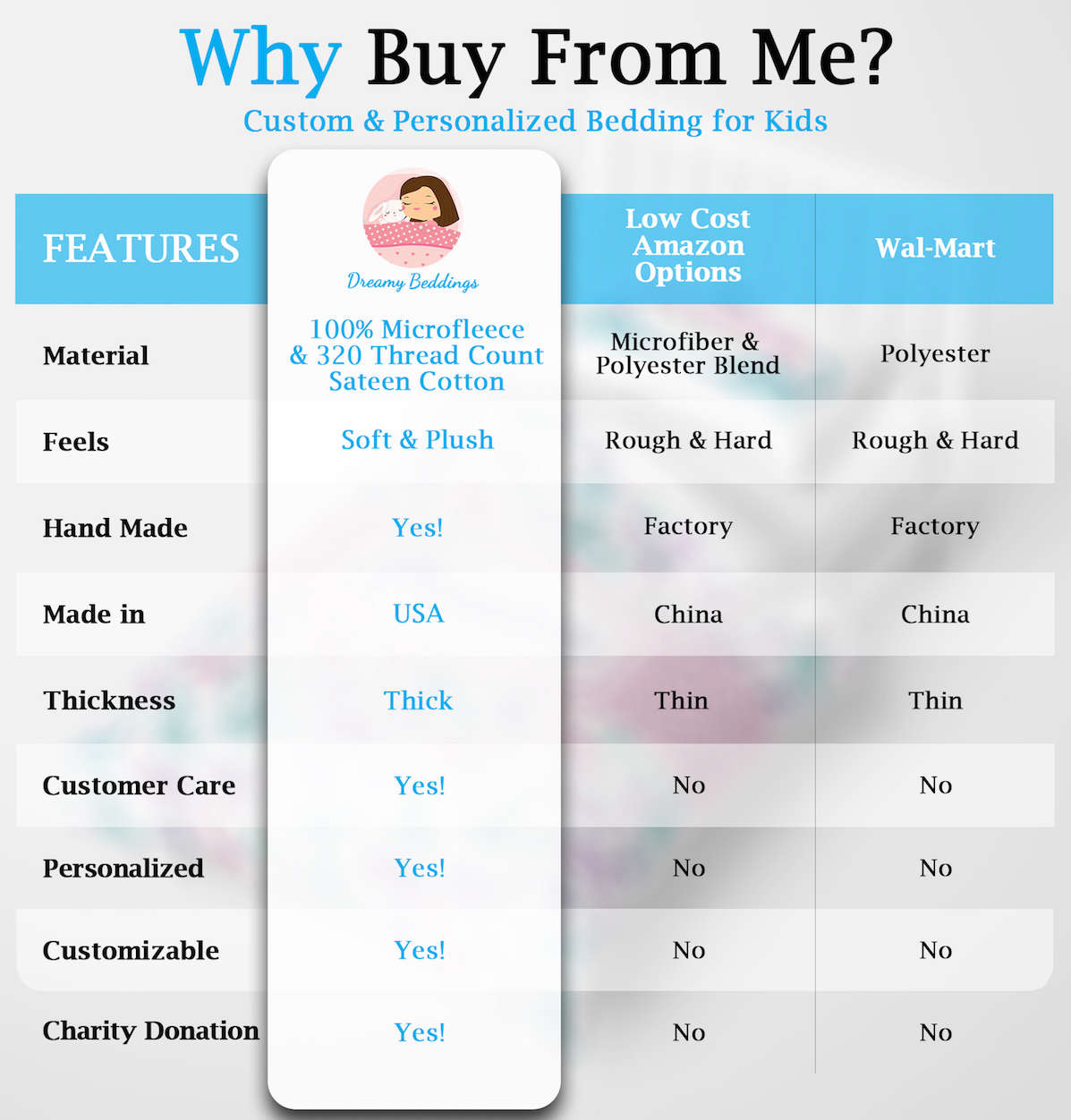 Full / Queen Beds & King Size Beds
For the kids with the extra large beds!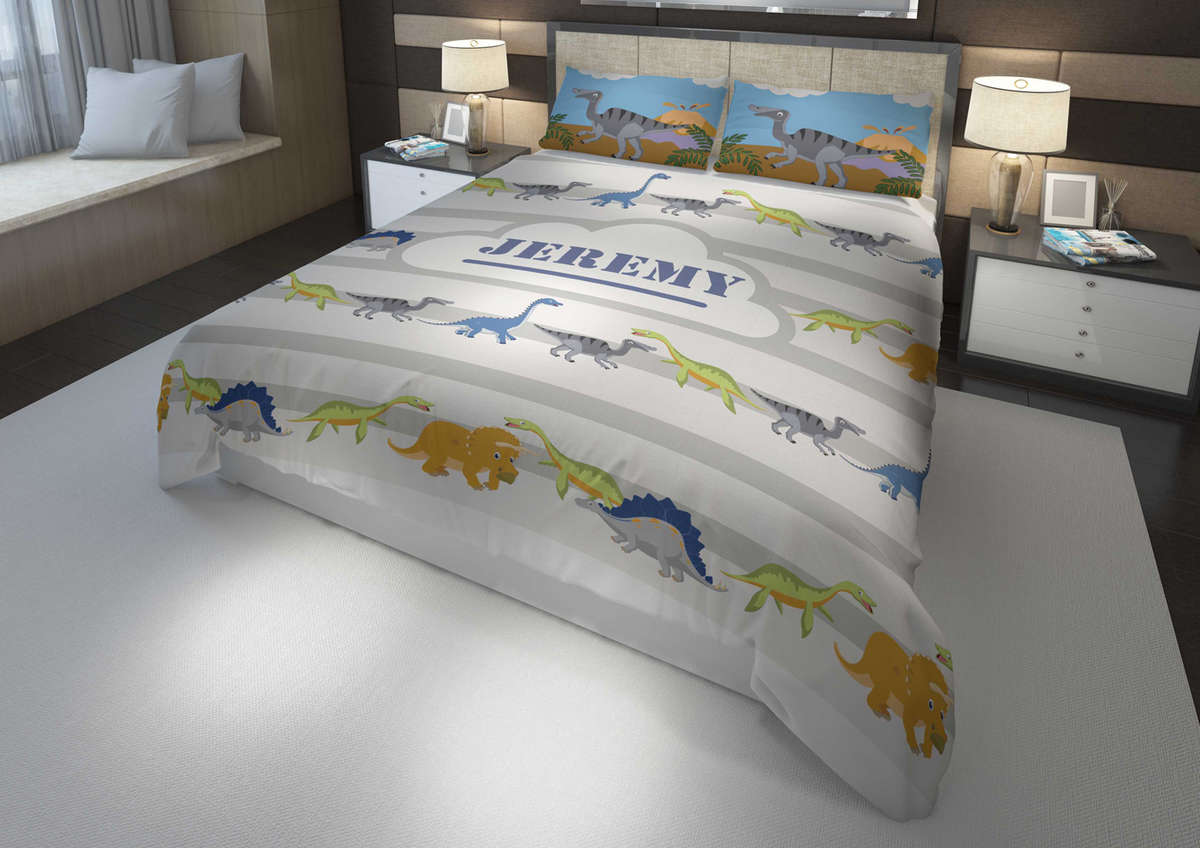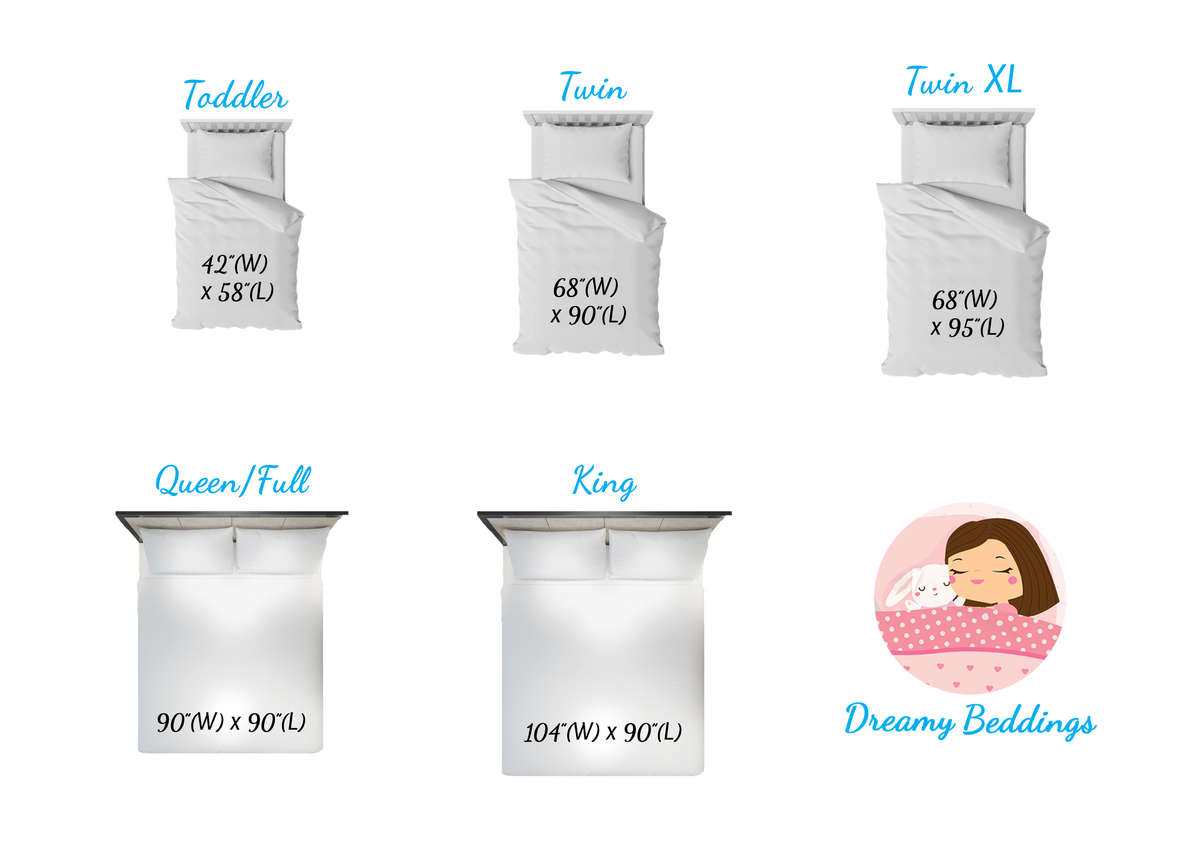 Size Chart
All pillow cases are 20"x 30"

If you want toddler sized pillow cases, please email or call me and I can downsize for you at no extra cost.



Frequently Asked Questions (FAQ)
1. How is my order processed?
1. If you have personalization - Check your email! I will be emailing you new mockups / proofs with the name you want (if you want personalization, if you don't your order will go straight into my production queue).
2. After you confirm your order, I will put it on my production queue.
3. All orders will take 4-7 business days to print, hand stitch and package.
4. Order is shipped to you and will take 3-5 business days.
5. I will send you a tracking number and it will be sent to your email address.
2. How Long Will My Order Take?
Production time will take 4-7 business days for printing, hand stitching and packaging. And then you can expect to receive most orders within 3 to 5 business days.
3. Do you allow customization? (different colors, different fonts, etc)
Sure! If you want different colors, please message me separately and I can get started on what you want Most of the time I can make any change you want and even layout changes, just ask :)
4. What is the material made of?
I made sure I chose really soft and plush fabric! Yes my margins are smaller but I believe you will see the value in it. Go ahead and check what everyone else uses; you'll see that its either a blend or a cheaper quality material. If your children are using it, it should be the best!
The Material for Comforters, Duvets and Pillow Cases are:
The top side is soft and plush because its made from 100% micro fleece. The bottom is a white, 320 threadcount sateen cotton. You'll love how soft it is!
5. How do I take care of, wash the bedding?
Duvets, Comforters and Pillows Cases are all washable. Please wash item alone with COLD water and dry with Low.
6. Can I return my item?
Since all of my items are handmade, I'm sorry but I cannot offer return or cancellation of orders on personalized Items. I will accept returns on items that are not personalized. That is why I confirm all orders before I put it in my production queue. Please check your email after you place your order.
I stand behind the quality of my products, so if something is not right I will do all I need to do to correct it through repairs or replacement.
7. My Order is Damaged:
I do my absolute best to insure that the product arrives to our customers not damaged.
Please inspect the packaging of your item(s) when they arrive, if you notice any major damage, please take pictures of it.
If your item(s) do arrived damaged, please send photos to help@dreamybeddings.com and I will process an insurance claim on your behalf. Claims must be reported within 24 hours. I am not responsible for anything later than 24 hours.

8. How do I personalize it?

On the cart page, please write the name you would like in the "notes" section. It will be printed exactly as you enter it here. If you don't want a name on it, write: 'no name'. I will be following up after your order and will email you a new picture with the name (or without a name) you want. Please make sure to check your email. Thank you!
9. I have more questions, can I call you?
Sure you can call me (888) 415-2899 or or help@dreamybeddings.com
Make Over Your Son's Room Today
I promise you won't be disappointed
I Promise
Listen: I want you to feel comfortable enough to place your order right now. That's why I am staking my reputation with these 4 powerful claims:

1) I PROMISE that you will receive the lowest price possible. I have an incredible price match guarantee + 5%. Find it cheaper? I'll match that price and give you an additional 5% discount!

2) I PROMISE you will receive a 30 day, money back guarantee on this bedding (non personalized only). If you don't love it, I'll refund you - no questions asked. If there is ANYTHING wrong, I will get it fixed for you.

3) I PROMISE there are no additional costs. Free Shipping and No Taxes!

4) I PROMISE that I live and breathe by my motto of providing excellent customer service. I am here to help you anytime you need!

To sum it up, here's WHY you should buy from me:
An amazing price match guarantee + 5%.
Free shipping & Fast 3-5 Business Day Shipping
100% Satisfaction Guarantee
Excellent customer support: I am only one phone call away from you… and always looking for the way to help you
We spend a lot of time making sure that we offer the best price online for all of our products. We also like to keep things simple.
If you find any of our products for sale anywhere else online we'll match that price! So you will know that you are getting the best price.
Making sure you get the best price online is easy;
Call us

 

and we'll sort the best price out
Email us at help@dreamybeddings.com

 

and tell us which product and the price you think we should beat.
Keep in mind that we are talking about total price. We provide free shipping on all of our products regardless of price.
To request your partial refund simply e-mail us a link to the same product on our website, or on our competitors website within six months from the date of your order and we will process the credit accordingly.
Our 100% Price Guarantee has some limitations:
Promotions such as rebates and buy one, get one free offers are not eligible

The item must be in stock on the competitors website

The competitor must be an online store, they may not have a retail location

The website can not be a discounter or auction website (ie; eBay, Amazon, Overstock, etc..)

The competitor must be an Authorized Retailer for the product in question

The Price Match Guarantee includes the item price and the shipping charges, it excludes sales tax
Call us today at 1 (888) 415-2899 and get the best price online!
    
 

All orders are processed within 1 business day. Shipping normally will take 3-5 business days. 

Returns are easy, simply contact us for a returns number and send your item to our returns centre for fast processing. We'll get you a replacement or refund in a snap!
I Know How YOU Feel and What YOU Are Thinking!
Before online shopping became popular, most people went to JC Penny or Wal-Mart or any other brick and mortar store to get the bedding that you wanted. Now it's just cheaper to get things online from Amazon or Walmart. But can you trust them with giving you quality bedding when its only $30 for the entire set?
At Dreamy Beddings I know we aren't cheap so I know how important this investment is for you. And believe me, I've been there so I know EXACTLY how you feel. That's why I stake me and my store's reputation on these promises:
110% Price Match Guarantee
If you find it cheaper, let us know and we will match that price. You can read more about my price match guarantee here.
Fast Processing &Shipping
My manufacturer / supplier is based in the USA, Missouri to be exact. Also I made a video to show you the quality of the materials used. I chose only the best and trust me, it is really soft and will last a long time. All orders will be processed on the same day or within 1 business day. It will take about 5-7 business days to create, hand stitched & sewn and package and shipping will take 3-5 business days (depending on where you live).
Excellent Customer Service Promise
Before I buy online I always do ALOT of research. Have you ever tried emailing Amazon or Walmart? You'll get an automatic reply. And then if you reply to that, you'll get another automatic reply. It's seriously annoying, I know! But if you have any questions or problems, I will bend over backwards to answer or fix any problems for you. I PROMISE!
Most Bang for your Buck
I often offer discounts and free giveaways. I want you to feel that you got the BEST VALUE for your hard earned money. I know asking you to spend it with me is hard but I am determined to make you happy!
Easy 30 Day Returns
Returns will be refunded onto the same method of payment for original purchase. Please allow 10-20 business days from receiving the returned product for refund to be processed. This is for bedding that is not personalized or customized only. 
HOW TO RETURN MY BEDDING
1. Call us at 1 (888) 415-2899 if you would like to receive a refund.
2. For refunds just package your bedding back into original box. The box must be intact.
3. Write on your invoice "refund"
4. Write the return-to address on the box.
5. That's it. You will receive an email once your refund is processed. There is a 10% restocking fee on all refunds.
Crafted in the USA
All of my bedding will have this tag on it. You know you are getting quality when you are buying from me. Look, I know there are cheaper alternatives out there and that is just a road I don't want to go down. If you have ANY questions about the quality of my bedding, feel free to ask. I Promise you are getting the best and you will not regret it at all!
Your Information is SAFE
Your data and private information is protected by Norton. Through Norton you are protected from identity theft and fraud. In addition, we do not sell or "rent" out your information to spammers or marketers. Believe me, that's the last thing I want to happen to me and I make sure it doesn't happen to you (that's why I pay extra to use Norton to protect your data!).
---